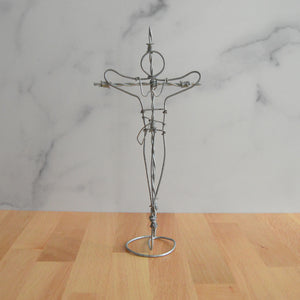 The Mustard Seed cross is a replica of the cross at My Father's House the headquarters of Mustard Seed Communities in Kingston, Jamaica.
Its origin begins with an actual cross made of barbed wire now worn daily around the neck of Msgr. Gregory Ramkissoon, the founder of Mustard Seed. This precious gift was given to him many years ago by a prisoner on death row whom he had befriended.
The barbed wire cross stands for the sufferings of the world but the transparent figure of Jesus represents the risen Christ who triumphs over all suffering bringing peace and joy.  

When you purchase a gift from Brother Andre's you help support our mission to share the many talents of adults with intellectual and developmental disabilities (IDD) with the world!